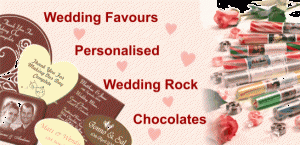 The Candy Designer team specialises in the manufacture and supply of personalised confectionery and wedding accessories.
Brides to be:
We supply a large range of wedding favours that are guaranteed to delight your guests. Most of which can be personalised with the bride and grooms name and wedding date.
Wedding favours include wedding rock, wedding rock sweets & wedding fortune cookies.
We also stock a wide range of traditional bonboniere including sugared almonds, favour nets, favour boxes,dragees and organza bags. A more funky and easy alternative to the favour nets are the favour wraps. They come in a great range of colours and add great colour and interest to your wedding table.
We also work with GiftsForher.co.uk who provide lovely presents for all you occasions.
Wedding Rock
Wedding favours guaranteed to both delight and amuse your guests.
Our confectionery section is second to none with imaginative ideas suitable for any wedding. Try our personalised chocolates, from chocolate wedding favours to bitesize photo chocolates.
Why not take a look at our JUST MARRIED rock bars, JUST MARRIED rock sweets
Wedding Chocolates
Made with the finest quality chocolate available and decorated using the latest technology, our chocolates look good and taste delicious. Make your big day extra special with these unique and personalised chocolates. Choose from chocolate hearts , chocolate menus, chocolate invitations (yes chocolate wedding invitations 100% edible, 100% delicious) chocolate wedding favours, place settings and after dinner chocolates.
Fortune Cookies
Wedding Fortune Cookies. Each little gold or silver packet contains a single fortune cookie. When opened each cookie contains a suprise message for the guest that opens it.
Wedding Favours
We offer a wide range of wedding favours including traditional bonbonniere to more unusual wedding favor treats.
We try to cater for all requirements so if you are planning a traditional wedding, your dream shaadi or if you are planning a gay or lesbian wedding please feel free to contact us and we'll do our very best to organise wedding  favours that are just right for your big day.